Heavy Duty Paper Handle - FFK
<em>Product bearing:15Kg</em> <em>1:Good display effect,Good handle </em> <em>2:Stacking safety </em> <em>3:Easy to discard,Imprint environmental protection logo </em> <em>4:Regular color, white, leather color. Other colors can be customized </em>
Inquiry Now
Main Products:paper handle
Wuxi Material Compound In Jiangsu
0510-82402938
info@wxzdbz.net
Heavy Duty Paper Handle background
The packaging of small household appliances is usually directly printed with beautiful patterns on the packaging boxes and boxes, which can be used for product protection and sales information display.
At present, most of the handles on the market are made of plastic. Because the product has a certain weight. Therefore, customers often feel that the handle of the plastic handle is not very good when picking up goods. Some of them have rough edges, and even have broken skin.
As a substitute for a plastic handle, the heavy-duty paper handle gives customers a safe and comfortable feel. At the same time, it can also enhance the brand value.
At present, the Nestle coffee machine, the world's top coffee manufacturer, has carried heavy duty paper handles on a large scale.
The composite paper specially developed and manufactured by our company is used as face paper and intermediate paper, which greatly improves the bearing capacity without affecting the hand feel.
In the manufacturing process, each batch will have strict quality control specifications. Including static load breaking test, dynamic load lifting test, etc. Ensure that every piece of paper handle in the hands of customers is perfect.
Product material
All materials are made of wood pulp kraft linerboard or environment-friendly recycled kraft linerboard. The paper handle has the characteristics of environmental protection, recycling and cost saving. With the increasing environmental requirements of the entire international market for packaging materials, the paper handle is the preferred packaging material.
Advantages of paper handle characteristics:
1. Handle
2. Super load bearing
3. Easy to recycle
4. Customized LOGO, inkjet printing
The green paper handles in rows in the store are easier to stack and not easy to tip over. With the customized LOGO in various colors, the overall effect is more beautiful and the handle is also good.
It is suitable for the use of all types of boxes in the market, and can be produced according to customers' requirements for carton handles.
Strong functionality and decoration
Bottom fastening box, double socket back sealing adhesive, paper box adhesive side sealing, double plug-in box, bottom box with hook, automatic fastening suitcase, automatic bottom fastening box, airplane box, sky and earth cover box - drawer box inner box.
Production automation, quality control, changeable paper handle and mounting system, and ecological automatic mounting system
Most importantly, the environment-friendly paper handle is environment-friendly. The physical and chemical indicators of the paper handle are in line with international standards, and have also passed the ROSH and REACH certification of the European Union. EU environmental certification: the product complies with the EU mandatory directive on hazardous substances in the environment.
Product bearing: 15Kg
Product Size:

Application case: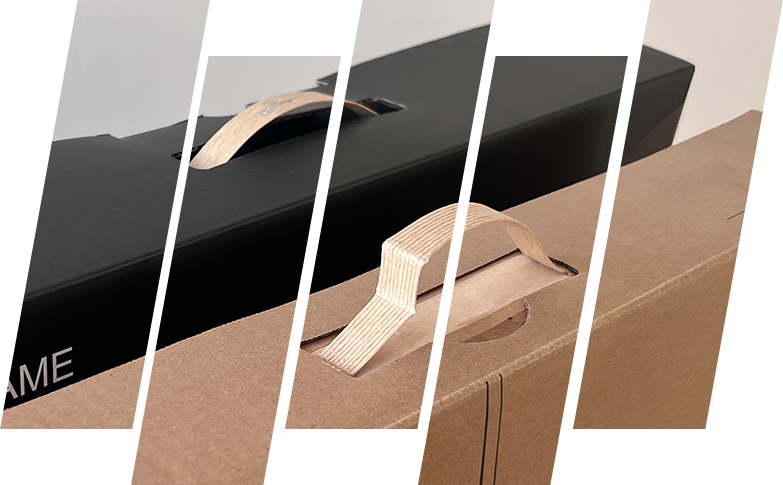 Aims To Replace Plastic Handles With Paper Handles
Wuxi Zhongding Packaging Technology Co., Ltd. was established in 2013, focusing on the research and development of paper handle and related supporting equipment and solutions, is a technology innovative company with independent development of new products, new materials, new process solutions.
+ Get A Quote
One-stop Service To CreateProfessional Products
The core founders of Zhongding come from packaging, electronics, automotive, intelligent equipment and other industries, with advanced research and development concepts and methods, and with a sound manufacturing foundation, to provide customers with trustworthy products and solutions.

Self Developed
We are a technology innovation company with many patents

Manufacturing
Production process quality control, automatic mount system

Engraving Service
According to customer requirements for text logo printing

Bearing Capacity
Pass the mechanical test of the third party laboratory in Europe
+ Get A Quote
Use Invisible Paper Handles In Every Corner Of The World
Zhongding company for many years with domestic and foreign universities, research institutions to carry out industry-university-research cooperation, to create new value for customers.
The people of Zhongding follow the character of honesty and trustworthiness, modesty and prudence, respect the heaven and love the people, pragmatic and innovative, to provide higher value and support for partners.
+ Our Products
OUR HISTORY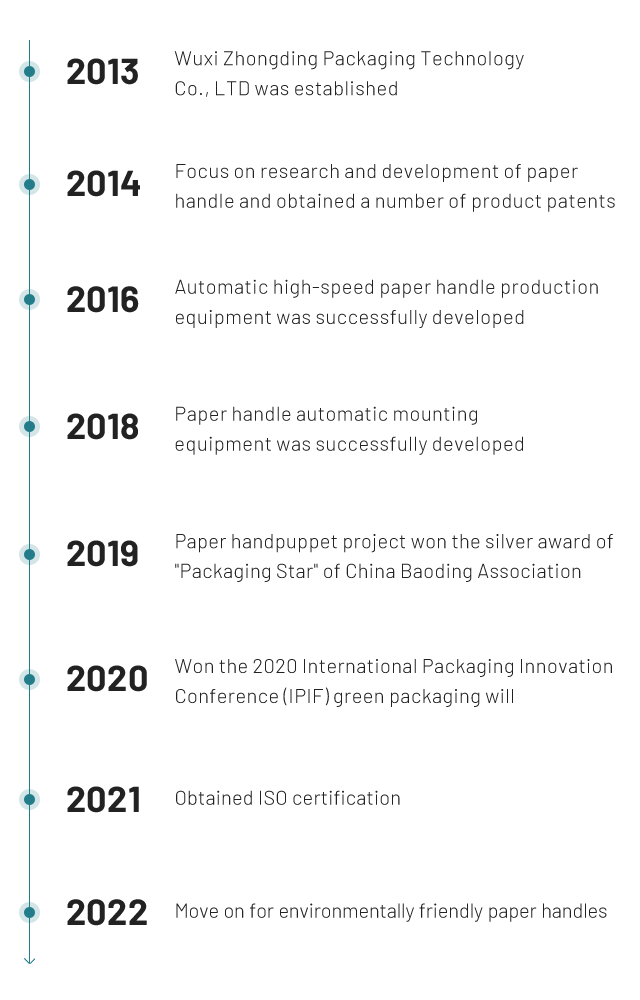 Wuxi Zhongding Packaging Technology Co., LTD was established
Focus on research and development of paper handle and obtained a number of product patents
Automatic high-speed paper handle production equipment was successfully developed
Paper handle automatic mounting equipment was successfully developed
Move on for environmentally friendly paper handles
Obtained ISO certification
Won the 2020 International Packaging Innovation Conference (IPIF) green packaging will
Paper handpuppet project won the silver award of "Packaging Star" of China Baoding Association
Send a direct inquiry to this supplier